"Xamã" Tapajonic Ceramic Carafe and Cup Set Handcrafted by Jefferson Paiva
Regular price

£90.00
Sale price
Pickup currently unavailable
Dimensions
14 cm (l) x 14cm (w) 20 cm (h)
Share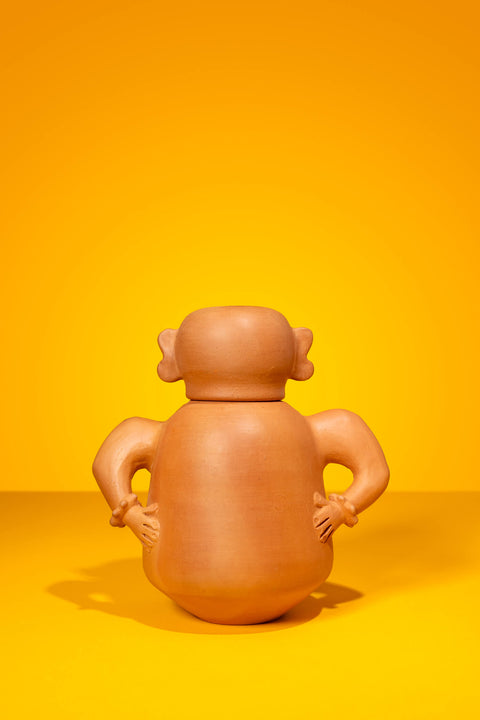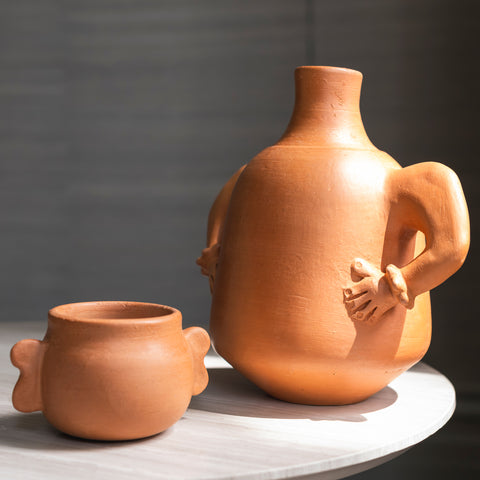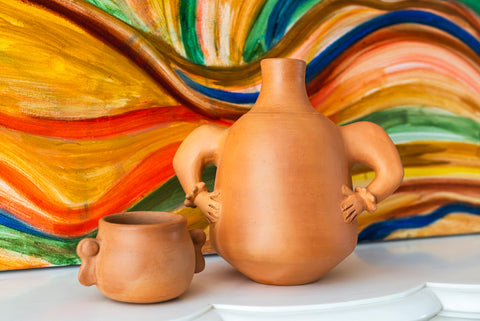 This uniquely handcrafted carafe and cup set not only replicates ancestral Tapajós ceramics but also serves as a functional water holder and pourer, blending artistry with utility.
Experience the legacy of ancestral Indigenous communities with our selection of Tapajonic tableware.
The creative force behind this project is artisan and anthropologist Jefferson Paiva, whose creative journey begins with archaeological exploration and the study of ancient ceramic materials, delving into the artistic traditions of Indigenous cultures like the Shipibo-Konibo and Wai-Wai. This research serves as the foundation for his work, revealing traditional ceramic production techniques.

From clay composition to wood-fired kiln firing, each piece embodies authenticity, cultural preservation, and the revival of ancient techniques, with Jefferson Paiva as the guardian of this heritage for future generations.

A fascinating detail about Tapajó pottery is that, according to archaeologist Anna Roosevelt, it is the oldest artisanal expression of the people in the Tapajós region, Amazonia. This craft dates back around six thousand years, as per studies conducted in the USA. During this time, the inhabitants of Tapajós were already creating items like necked vessels, caryatid vessels, and other utensils for their needs. In addition to necked and caryatid vessels, Santarém pottery also stands out for its figurines. These exhibit a wide variety of anthropomorphic or zoomorphic forms, which can be hollow, solid, or a combination of both.

• Origins and Certificate
Jefferson Paiva de Souza, a third-generation ceramist, traces his family's craft back to Mestre Isauro, his paternal grandfather, who pioneered Tapajonic ceramics in 1930. Jefferson's artistic journey began in childhood, marked by fond memories of shaping clay alongside his father. Despite challenges, including a stint in the army and a decade-long detour into brick production, he returned to ceramics in 2017, driven by a dream featuring his grandfather. Since then, he has dedicated himself entirely to this craft, achieving recognition at home and abroad. Jefferson's passion for ceramics has led him to actively involve his extended family and a community of ceramists. Through workshops, exhibitions, and social media, he promotes this cherished art form. His journey exemplifies a profound commitment to preserving cultural heritage, embracing tradition, and inspiring others to carry forward the legacy of Tapajonic ceramics.
Made in: Amazonian Region, Brazil

Certification
This product is certified by the Brazilian National Historic and Artistic Heritage Institute (IPHAN). To receive a digital copy of the IPHAN certificate (in Portuguese), please email hi@cantodesign.co.uk.
• Process, Materials and Care
Process: Jefferson Paiva's Tapajonic ceramics are crafted through extensive research and the revival of ancient techniques. He begins with archaeological investigations and studies of Indigenous cultures to understand traditional ceramic production. The process involves meticulously composing the ceramic paste, thorough clay preparation, molding, painting, and a wood-fired kiln firing.

Material: Cerâmic

Care: Not Dishwasher safe