Round Crochet Buriti Tray Towel, 25 cm, Natural
Regular price

£30.00
Sale price
Pickup currently unavailable
Dimensions
Share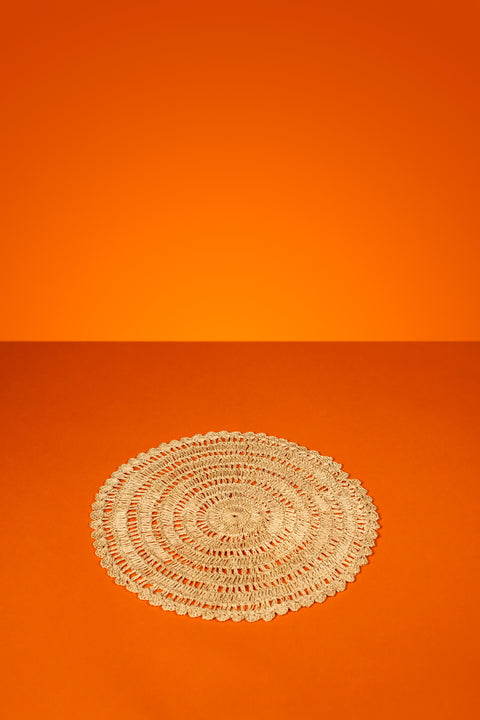 Handmade from natural fibre, our one-of-a-kind Buriti tray towels are delicately crafted and uniquely dyed with natural pigments

Created from the natural fibre of the Buriti tree, our Buriti tray towels are more than just exquisite table accessories. They embody a rich cultural heritage deeply rooted in Brazil, where the Buriti tree is affectionately known as the "tree of life" by Indigenous and traditional communities. This revered tree, standing tall at 20 to 30 meters, offers sustenance and protection through its leaves, stalks, fruits, and seeds, providing livelihoods and sustenance to many.
Our Buriti tray towels not only grace your table with their delicate beauty but also carry within them the timeless traditions and wisdom of Brazil's native artisans. Each piece is a tribute to the sustainable and artistic brilliance of a culture that thrives in harmony with the land.

Please note that slight variations in color and design may occur due to the handmade nature of this product.
• Origins and Certificate
Handcrafted by Indigenous Community Women in the Amazon, Brazil.

• Process, Materials and Care
Buriti, a native Brazilian tree known as the 'tree of life,' is used to create these homeware objects. Skilled artisans extract fine fibres from its leaves, dye them naturally, and craft a range of functional and decorative items, preserving tradition and promoting sustainability.

Process: Crochet

Care: Wipe with damp cloth

Material: Buriti Natural Fibre