"Coração na Mão" Woodcut Print by J. Borges, Signed By The Artist
Regular price

£55.00
Sale price
Pickup currently unavailable
Dimensions
48 cm (w) x 66 cm (h) (frame not included)
Share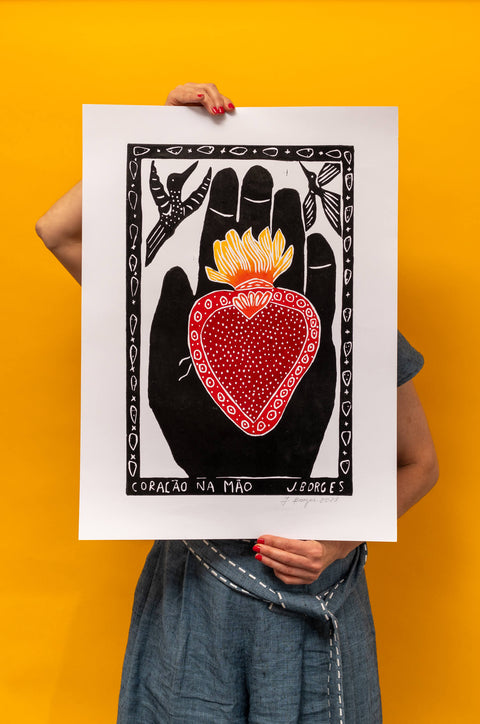 Original woodcut wall art on paper, handcrafted and signed by renowned Brazilian artist J. Borges
If you're in search of exquisite handmade decor that breathes life and charm into your space, look no further than this beautiful woodcut print by the renowned Brazilian artist, J. Borges. Known as "xilogravura" in Portuguese, woodcut is a masterful art form that involves the meticulous carving of intricate designs into wood using a pointed tool. Born in Bezerros, Pernambuco – a state in Northeastern Brazil – J. Borges is celebrated for his artistic prowess and his contributions to the preservation of popular woodcut printing.
His works often depict scenes of everyday life, cultural elements, and landscapes from the Pernambuco hinterlands, where he lives. Radiating both vintage allure and a contemporary touch, this woodcut print complements a variety of styles, adding a sense of timelessness to your living space – a perfect choice for those who appreciate the beauty of authentic craftsmanship.

Explore our woodcut prints collection here
Please note that slight variations in color and design may occur due to the handmade nature of this product.
• Origins and Certificate
J. Borges, born José Francisco Borges, is a celebrated Brazilian artist renowned for his mastery of woodcut printing. Originally from Bezerros in the state of Pernambuco, Northeast Brazil, J. Borges is widely acclaimed for his artistic prowess and his vital role in preserving the tradition of popular woodcut printing. His artistic style is defined by bold lines, vibrant colors, and an unwavering connection to the rich traditions and rural life of the Pernambuco Hinterlands.

This product is certified by the Brazilian National Historic and Artistic Heritage Institute (IPHAN). To receive a digital copy of the IPHAN certificate (in Portuguese), please email: hi@cantodesign.co.uk.

• Process, Materials and Care
J. Borges draws directly on wood, skilfully balancing solid and void spaces without the need for preliminary sketches or drafts. His artistic process begins with the title, which guides the creation of each drawing, giving life to the vivid narratives often found in Brazilian "cordel" literature. In woodcut, the matrix background is carved around the figure, allowing for the application of ink. The result is a vividly coloured or black image set against a pristine white backdrop. Borges' designs do not adhere strictly to perspective or proportion, making them stand out for their unique blend of originality, irreverence, and the presence of whimsical, imaginary characters.

Process: Woodcut
Care: Wipe with a dry cloth
Material: 180g printed paper Print on 180g paper
Process: Woodcut
Care: Wipe with a dry cloth
Material: 180g printed paper Print on 180g paper