Tucumã Chopó Basket, Ochre
Regular price

£70.00
Sale price
Pickup currently unavailable
Dimensions
20 cm (d) x 8 cm (h), Please note that slight variations in size may occur due to the handmande nature of this product.
Share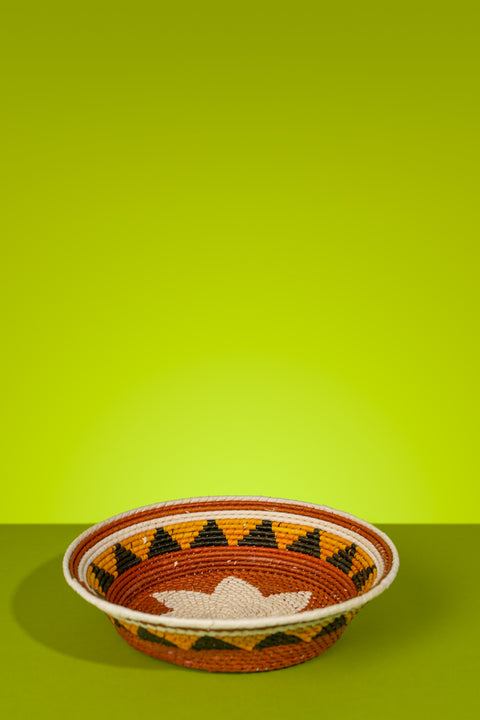 Discover our Tucumã Natural Fibre Baskets, woven by skilled Amazonian women artisans – a perfect blend of tradition and eco-conscious artistry

Nestled along the banks of the Amazon River, artisans from the Tapajós-Arapiuns Extractive Reserve craft our Tucumã Natural Fibre Baskets. Passed down through generations, this intricate artistry involves weaving baskets, mandalas, bags, vases, and chests using resilient tucumã palm tree fibres. The distinctive geometric designs and vibrant colours are brought to life through a meticulous natural pigmentation process, sourced from Amazonian flowers and roots. As a result of the dedication and creativity of 55 artisans, predominantly women, from five different remote riverside communities, our Tucumã Natural Fiber Baskets not only reflect the region's rich cultural heritage but also sustain the traditional practices of forest-dwelling peoples from the Amazon.

Please note that slight variations in colour and design may occur due to the handmade nature of this product.
• Origins and Certificate
Handcrafted by women from the riverside communities living along the Arapinus River, located in the heart of the Amazonian Rainforest in the northern region of Brazil.
• Process, Materials and Care
The ancient art of straw weaving, known as Turi, thrives in Amazonian communities along the banks of the Arapinus River. Skilled artisans use fibres from the tucumã palm tree, abundant in the Pará region, to create exquisite baskets, mandalas, and vases. These pieces feature unique geometric designs and vibrant colors, sometimes dyed using natural pigments from Amazonian plants. The red hues are obtained from a vine found in the Crajiru tree, while vivid yellow pigments are sourced from the Yellow Mangarataia root. As this craft evolves into a business, it boosts the artisans' self-esteem and involvement in community politics, leading to improved infrastructure and collective development. Despite residing in separate boat-accessible communities, these women form a supportive network, preserving their traditions for generations to come.