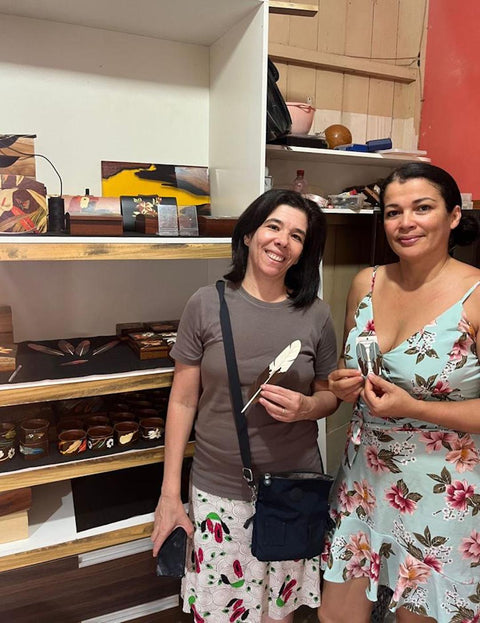 Artisan Focus: Vanusa da Silva Lima
Canto takes great pride in introducing you to Vanusa da Silva Lima, a skilled artisan from Cruzeiro do Sul, in the Amazonian region, who has become a master in the ancient art of marquetry. The technique, which was brought to Brazil by Jesuit missionaries during colonization, involves fitting together wood or veneer pieces to create stunning designs. Vanusa's journey in marquetry began 14 years ago when her husband introduced her to the craft after the birth of their son. Today, she has taken the reins of their venture, living and breathing the art of marquetry.
Using indigenous woods like muirapiranga, roxinho, louro preto, amarelão, ipê, and angelim, sourced from fallen wood found in forested areas or repurposed from carpentry workshops, Vanusa skillfully designs beautiful marquetry boxes, inspired by the diverse cultures and natural beauty of Cruzeiro do Sul. The region, located on the margins of the Juruá river in the state of Acre, is home to over 15 Indigenous ethnicities, including Kaxinawa, Arara, Jaminawa, Ashaninka, and Madija. Despite its historical link with the rubber extraction industry, which has led to numerous environmental, social and political conflicts, the area's inherent natural splendor provides a unique backdrop that fuels Vanusa's creative expression.
In July 2023, Canto team had the privilege of visiting Vanusa at her studio. Nestled within her own house, the atelier serves as her creative sanctuary. During our visit, we witnessed Vanusa passing down her craft to her teenage son and his girlfriend. Beneath her modest and amiable demeanor lies a profound commitment to her artistry.
Through her unwavering dedication to marquetry, Vanusa actively contributes to the preservation and appreciation of traditional Brazilian craftsmanship. Her creations not only showcase her talent but also highlight the rich cultural heritage embedded into each piece.
Cover Image: Ana Paula Mattar from Canto Design and Vanessa Lima at the artist's studio               
Credits: www.artesol.org.br