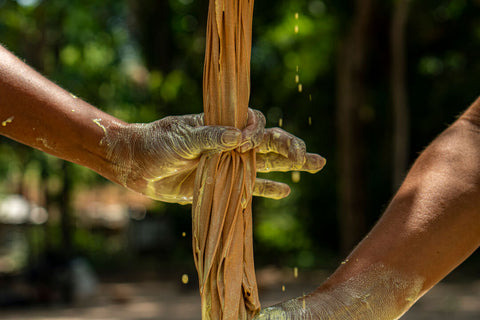 Brazilian Rubber Products from the Amazon: A Sustainable Blend of Tradition and Innovation
Deep within the rainforest, a remarkable evolution is taking place—a seamless fusion of age-old techniques and contemporary innovation. Canto Design is thrilled to present a unique rubber product developed in the Amazon. Embracing both Indigenous knowledge and sustainable practices, it is made within native Amazonian rubber tree groves by local communities, including Indigenous groups. The material results from a blend of latex and plant fibers, such as residues from the açaí industry.
The rubber material emerged from the collaborative efforts between Indigenous and local communities and the academic field. The research, which began 20 years ago under the guidance of ecologist Francisco Samonek from the Federal University of Acre, has resulted in a diverse product line featuring bold designs inspired by the intricate patterns, shapes, textures and colors of Amazonian rainforest leaves. Varieties like the Capeba, the Amazonian water lily, and the Apuí have served as inspiration. Among these creations, you will find the exquisite placemats and centerpieces now available at Canto Design.
Bridging Tradition and Sustainability
The new material stands out for its groundbreaking social technology, which has revolutionized the conventional industrial vulcanization process for rubber, transforming it into an artisanal method of latex handling. In practice, the typical industrial base compound is naturally dehydrated and converted into plant-based rubber using handmade molds. The process requires no electricity, machinery or drying chambers, making optimal use of natural resources.
Preserving the Rubber Legacy
This new technology has been adopted across different Amazonian regions, leading to the revival of native rubber tree groves in the states of Acre, Amazonas, Rondônia and Pará. This shift has encouraged many extractivists to remain in the forest, earning a livelihood through traditional practices. This not only safeguards the forest but also prevents migration in pursuit of low-wage employment or activities such as illegal logging.
Empowering Communities, Preserving the Forest
This pioneering rubber initiative champions environmental preservation and community development – an endeavor that Canto Design proudly aligns with. By empowering traditional and Indigenous communities with technology access, Seringô fosters the production of high-value finished products, prioritizing sustainability over the trade of raw materials, while also playing a pivotal role in biodiversity conservation.
Credits: https://www.artesol.org.br/