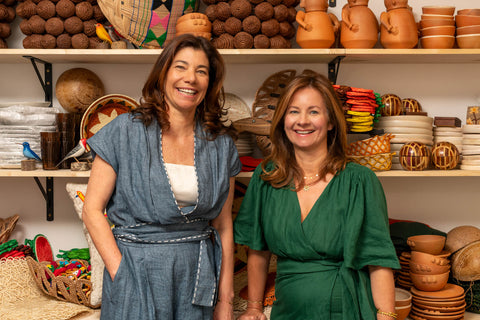 Celebrating Brazilian Artisanal Homeware – An Interview with the Founders of Canto
In an intimate interview with Heloisa and Juliana, the dynamic duo behind Canto – an online shop dedicated to selling and celebrating homeware crafted by Brazilian artisans and designers – we delve into the story behind their exciting new venture. Prepare to be inspired!
How did you two meet?
Heloisa: Juliana and I have been friends for over three decades. We first met back in São Paulo during university. I was friends with Renato, Juliana's husband, and that's how our paths crossed. After São Paulo, we both lived in New York. Our husbands are also friends, and our kids are around the same age, so we have spent a lot of time together. But the story doesn't end there. In 2018, we moved to London, and ended up living in the same neighborhood!
Juliana: Our experiences in São Paulo and New York brought us closer, and when we all moved to London together, it felt like fate had a hand in keeping us connected. Our friendship is incredibly special, and it's a joy to embark on this Canto journey together.
Where does your interest in Brazilian craft come from?
Juliana: My interest in Brazilian craft stems from my father, a passionate Brazilianista who had a fascination with everything Indigenous. Growing up, our household was filled with books of Indigenous fables that he collected and cherished. My brother's name, Iatã, means valiant warrior in Tupi-Guarani. My father's love for all things Brazilian greatly influenced my own admiration for regional cultures.
Heloisa: As for me, my interest in Brazilian craft is deeply intertwined with my family's heritage. Originating from the Northeast of Brazil, our home was adorned with artifacts, lace, embroideries, and other treasures. My great-aunt, Sister Yolanda Setúbal, played a pivotal role in shaping my love for Brazilian culture. At the age of 42, she left her position as a school director in São Paulo to become a missionary in the Amazon, working tirelessly with river communities near Manaus and becoming a true humanitarian force. Visiting her in the Amazon at 19 left a profound impact on my understanding of Brazil.
And how did the idea for Canto originate?
Juliana: Picture this – strolling through the busy streets of Columbia Road and Notting Hill in London, I couldn't help but notice the diverse array of Mexican and Colombian craft on offer. Yet, there was a missing piece – the beautiful artistry and craftsmanship of my homeland, Brazil. That's when the idea for Canto began to take root. Heloísa and I felt a desire to shine a spotlight on the richness of Brazilian craft and bridge a gap in the market. The growing interest in artisanal products provided the perfect opportunity to create something meaningful.
Heloisa: It was an exhilarating vision – a brand that would celebrate the exceptional beauty of Brazilian handcrafted homeware while supporting talented artisans and makers. Our partnership with Artesol, a Brazilian organization founded by anthropologist Ruth Cardoso, was a turning point for Canto. Their aim is to preserve Brazil's cultural legacy through traditional craftsmanship, which resonated with our mission. With their endorsement and expertise, we sourced our first acquisitions directly from artisans, ensuring an ethical supply chain that values and empowers these communities.
Can you tell us about the relationship between Canto and contemporary art and design?
Heloisa: Our passion for contemporary art has played a significant role in shaping Canto's identity and mission. As contemporary art supporters and collectors, both Juliana and I are patrons of Gasworks, a London-based non-profit contemporary art organization that fosters connections between the UK and international artistic practices, with a particular focus on emerging artists from Latin America and Brazil.
Juliana: Drawing inspiration from the world of contemporary art, we curate our collection to offer products that celebrate Brazil's artisanal heritage while embracing a contemporary aesthetic that appeals to the UK market. Our vision is to create a unique crossover between traditional craftsmanship and contemporary design.
What does the future hold for Canto?
Heloisa: We envision Canto as a thriving hub, not only for trading exquisite homeware but also for promoting knowledge and understanding of Brazilian art and culture. Right now, building strong partnerships with artisans and organizations in Brazil is our priority.
Juliana: I'm particularly excited about the opportunity to connect Canto's customers with the stories behind each creation we sell. Our goal is to foster a deep sense of appreciation and cultural exchange, creating meaningful experiences with our products. Our journey has only just begun, and we have exciting plans ahead!